High Level students : Which course is best for you?
If you have a high level of English, we have a range of programmes designed to help you improve in all skill areas. Our topic based classes help you to expand your vocabulary and improve your ability to use English in various contexts. Lively, content-rich classes improve your grammatical accuracy and spoken fluency.
English Student Hosts participate in all residential programmes, providing countless opportunities for you to speak colloquial English all day long.
You'll be amazed by how much you learn and how your confidence grows!
At the following centres we offer classes for students at high levels.

12-16 years
ACS Cobham
Ideal if you are:
Thinking of attending an English medium school or selecting alternative educational pathways e.g. IB Diploma
Keen to explore and develop confidence in new topics in a truly international environment.
Taught by:
Our academic team ensure the classes are lively, interactive and help you grow into a confident and self-assured global young leader
How students learn:
English Skills classes help you improve technical accuracy while boosting confidence in your spoken English
Develop core study and research 'academic English' skills e.g. note taking, active listening, analysing data, evaluating sources
All four subjects encourage creativity, collaboration, problem-solving, critical thinking and development of entrepreneurial skills
Sample topics and areas of study (e.g.):
| | |
| --- | --- |
| Topic | British Society |
| Task: | Learn about social hierarchy in medieval England and interview a 'knight' |
| English Skills: | Comparing, contrasting, expressing agreement and disagreement |
| Study Skills | Researching information, paraphrasing |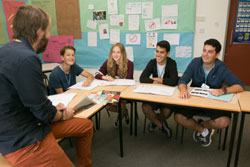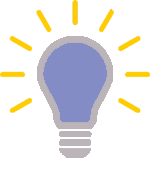 8-17 years
Marymount and Radley
Ideal if you are:
Ready to apply the grammar rules you know while exploring more complex structures
Looking to improve your range of vocabulary
Keen to explore challenging topics and ideas.
Taught by:
Appropriately qualified EFL teachers
How students learn:
Topic based (e.g. Great Britain, Media & Entertainment, Science & Tech) interactive English Skills lessons encourage collaboration, discussion and debate
Interactive project based English Workshops help you learn and build confidence through 'doing'
English Workshops may be researched based (United Nations), creative (Banksy Art), performance based (fashion), practical (cookery) or tech-based (animation)
Sample topic based lesson (e.g.):
| | |
| --- | --- |
| Topic | Media & Entertainment |
| Task | Write headlines and journalistic reports based on a current story in the English news |
| English Skills | Using mixed passives |
| Study Skills | Using formal and informal language |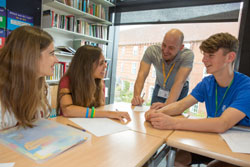 14-17 years
Winchester
Ideal if you are:
Keen to refine your oral communication skills whilst studying new subject content to prepare for university life and future career choices
Planning to prepare for the IELTS exam (optional and at additional cost)
Taught by:
Specialist tutors with experience of teaching high school/university students.
How students learn:
Tutorials encourage critical thinking, decision making and complex problem solving
Practical life skills e.g. leadership, teamwork and autonomous learning are an integral part of the interactive teaching programme
Sample topics and areas of study (e.g.):
| | |
| --- | --- |
| Subject | Economics - The nature and definition of |
| Task | Work in small groups to apply the theory you have learned |
| English Skills | Expand your subject knowledge using specialist vocabulary |
| Study Skill | Presenting ideas and using persuasive language |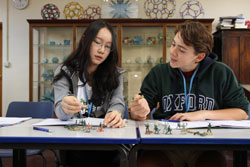 Authentic Language Use
English Student Hosts




Spending time with our English Student Hosts will help you to:

Confidently use colloquial language, expressions, idioms and vocabulary
Become familiar with different accents, dialects and regional varieties of English and improve your listening skills
Improve your pronunciation & intonation
Understand more about British history & culture
Apply Your Learning
Study Visits
Additional weekly study visits may be included on the Winchester Pre-University programme to e.g. to a local historical site. These visits are led by teachers and will help you apply, revise and consolidate what you have learned in classes.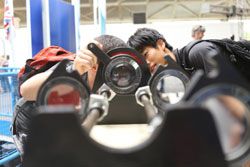 Build Your Confidence
Presentation Skills
Students on high level programmes have numerous opportunities to discover, discuss and debate. At the end of the week, students may present their work in front of the school. This is invaluable practice; helping students develop their confidence, public speaking and presentation skills.