High Level Courses : Which one to choose?
Our range of high level programmes help you improve in all skill areas. Expand your vocabulary and improve your abilty to use English in various contexts. Lively, content rich classes improve your grammatical accuracy and spoken fluency
English Student Hosts participate in all residential programmes, providing countless opportunities for you to speak colloquial English all day long.
You'll be amazed by how much you learn and how your confidence grows!
11-16 years
Upper Intermediate - Proficiency
Ideal for:
Students studying at an English medium school or an international school
Those planning to attend a UK boarding school who first want a 'taster' of life as a boarder at a top independent school
Students looking to explore exciting topics in an truly international environment.
Taught by:
Experienced subject teachers in maths, science, humanities and English with experience of teaching international students.
How students learn:
Innovative project based lessons often related to the British curriculum
Students learn how to successfully approach and analyse mathematical, scientific and historical questions while building on their academic English and study skills
Classes are kinaesthetic - the hands on approach to learning ensures you learn through doing
Workshops may include interactive master-classes on British culture, discussions about art, law and scientific innovation.
Sample topics and areas of study (e.g.):
| | |
| --- | --- |
| Maths | Creating charts and graphs, collecting and analysing data |
| Science | Understanding forces, chemical properties, crime scene analysis |
| Humanities | Life in medieval times (History), man's relationship to his environment (Geography) |
| English | Academic writing techniques e.g. using formal tone, describing processes, complex sentence structures to express reasoning and justification |
What high level students will achieve:
Integrated study visits provide students with the opportunity to apply scientific, mathematical and historical theory learned in class; often helping students grasp difficult concepts.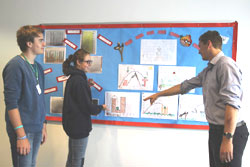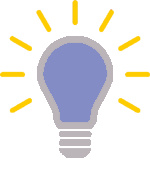 8-17 years
Beginner - Proficiency

Ideal for:
Students who want to improve their grammatical and vocabulary range whilst exploring challenging and 'current' topics
Students who are ready to apply the grammar rules they know while also acquiring more complex structures.
Taught by:
How students learn:
Theme based, interactive English Skills lessons and interactive project based English Workshops help students learn and build confidence through 'doing'.
Students can choose academically challenging workshops e.g. computer programming, kite building, IELTS speaking practice, debating.
Sample topics and areas of study (e.g.):
Lesson theme
Society
Grammar
Mixed passives
Interactive Task
You are the editorial team for a broadsheet newspaper; write headlines and journalistic reports based on a current story in the English news
Skills
Understanding differences between broadsheet and tabloid newspapers

Discussing and exploring use of formal and informal language

Debating 'Freedom of Press' using complex language e.g. idioms & expressions, tone, intonation and colloquial language


What high level students will achieve:
Increased confidence in understanding and accurately using complex language items (e.g. syntax, morphology)
Improved spoken fluency and pronunciation.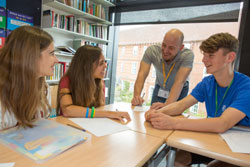 14-17 years
Upper Intermediate - Proficiency

Ideal for:
Students who want to refine their oral communication skills whilst studying new subject content so as to better prepare for university life and future career choices.
Taught by:
Specialist tutors with wide experience of teaching high school/university students.
How students learn:
Small university style tutorials encourage critical thinking, decision making and complex problem solving
Detailed feedback from teachers enables students to take their English to the next level
Exposure to a range of subject content increases students' range of vocabulary and understanding of current events, technological innovation and cultural trends
Practical workplace skills are an integral part of each Major/Minor
Practical life skills e.g. interview techniques, teamwork and complex problem solving
British Culture e.g. British humour and etiquette
University application systems e.g. preparing for university aptitude and admissions tests.
Sample topics and areas of study (e.g.):
Economics
The nature and definition of Economics

The economic way of thinking

Types of economic exchange


Interactive task
Simulation games - working in small groups, students apply the theory they have learned
Skills gained
Knowledge of specialist vocabulary

Presenting ideas and using persuasive language


Case study
Using technology to improve economies
What high level students will achieve:
The ability to use English in a sophisticaed way in a range of academic and social environments
Students are challenged to explore new perspectives and extend horizons
Many of our Winchester students go on to study at British or American universities.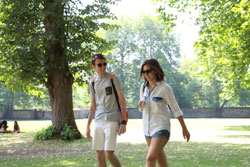 Authentic Language Use
Student Hosts




Spending time with our English Student Hosts will help you to:

Confidently use colloquial language, expressions, idioms and vocabulary
Become familiar with different accents, dialects and regional varieties of English and improve your listening skills
Improve your pronunciation & intonation
Understand more about British history & culture
Apply Your Learning
Study Visits
Additional weekly study visits may be included on the Discovery Plus and Winchester Pre-College Enrichment teaching programmes. These may include visits to e.g. an educational centre or to a local historical site. These visits are led by teachers and will help you apply, revise and consolidate what you have learned in classes.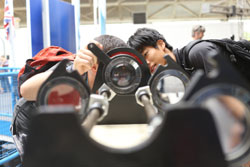 Build Your Confidence
Presentation Skills
During workshops, students on high level programmes have numerous opportunities to discover, discuss and debate. At the end of the week, students may present their work in front of the school. This is invaluable practice; helping students develop their confidence, public speaking and presentation skills.